VALUABLE PAINTING DISPLAYED AND SECURED WITH TELESCOPIC RAILS
A very large and famous painting made by the Finnish artist Albert Edelfelt was recently returned to the old castle of Turku in Finland. The painting came back from a museum in Helsinki where it had been displayed temporarily while a new exhibition area was prepared at the old castle. The painting needed a new display worth its value where it could remain safe from vandalism and changes of humidity and temperature.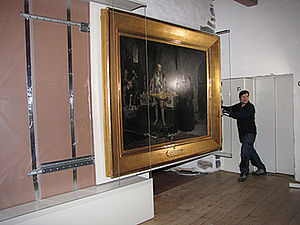 A Finnish builder John Berger, with over 30 years' experience of building display structure, was chosen for the project. The requirements of the application was, of course to keep the painting well secured on the wall, but also to be able to pull it out from the wall for maintenance on a regular basis. The painting is 2 m wide, 2,5 m high and weighs about 150 kg. A sturdy telescopic solution was required to be able to pull the painting out of the display.
Suitable telescopic rails were found in Rollco´s Heavy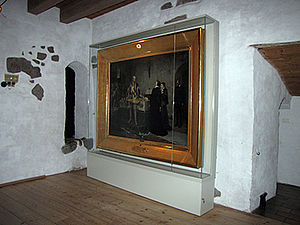 Telescopic selection. A stroke of 2,9 meters was made possible with telescope rails made from hardened material. The load capacity of 800 kg exceeds the needs.