BALL SCREWS CHANGE BALLROOM TO THEATER
At the Kongress & Kultur Center in Aalborg, Denmark, twelve enormous ball screws makes it possible to turn the floor in the congress hall into three individual stages in only a few minutes.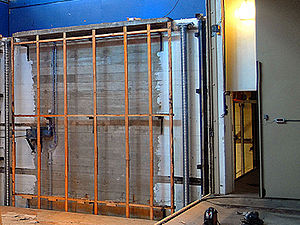 In the floor in the congress hall, there are three adjustable stages and by using ball screws it´s possible to position them in different heights. The moving stages gives a flexibility that makes it possible to change the congress hall for many different events. The stages are also used for transporting furniture and other materials which easily can be brought down and up from the basement level.
Four ball screws lift a symphony orchestra
A few years ago, a complete renovation of the stages was made.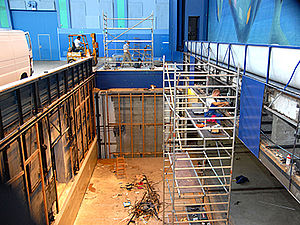 For this project, Rollco delivered twelve strong ball screws able to lift 674 tons. Four solid ball screws lift the largest stage of 88 m2. Each ball screw can take a static load of 81 tons, which is necessary since the stage sometimes works as an orchestra pit for a whole symphony orchestra. The two smaller stages are approximately half the size and each has a load capacity of 215 tons.
Heavy weight with precision
When a stage lifts up or down with full load it is necessary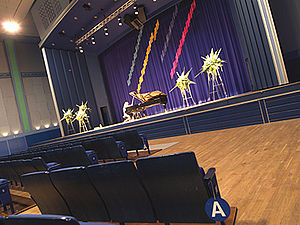 that the four ball screws work synchronously to avoid clamping. For every 300 mm, every ball screw has a tracking error of only 18 μm, which is quite impressive considering how heavy the load is. Roller guides where also considered for this project, but found to be too expensive. The ball screws from Rollco were chosen because they met the required load capacity for a price that was 30-50% lower.
Safe and well-dimensioned solution
Henrik Steen Hansen, stage manager at Aalborg Kongress & Kultur Center, is satisfied with the renovation. "We use the platforms for transporting goods and as a stage for our artists on a daily basis. It is nice to know that the application is safe and well dimensioned for the job," says Henrik Steen Hansen.
Facts about the large stage:
Stage area: 13,5 x 6,5 m
Number of ball screws: 4
Diameter, screw: 125 mm
Diameter, ball: 19 mm
Total load capacity: 244 tons
Vertical distance: 7,5 m
Operational life span: 20 year