COMPACT RAILS SLIDES ROOF SIDEWAYS
Located high above the sea, in the middle of the Norwegian mountains, is a small cottage belonging to Ståle Kildal. He built the cottage a few years ago and because of his passion and interest in astronomy, it was designed as an observatory.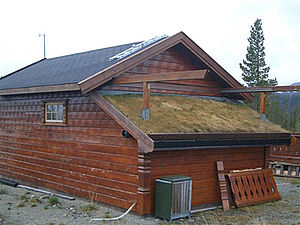 A telescope must of course have a clear view of the sky, but the snow and the wind in the mountains are big challenges. The solution was a roof that could be slid sideways to give the telescope a clear view.
The cottage is located in a stunning natural area and he wanted the construction to be as discreet as possible. This was possible by using Rollco´s Compact Rail tracks. By selecting the Compact T + U system, it was also possible to compensate for issues with parallelism of up to 4 mm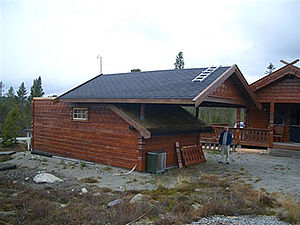 between the two rails.
"We could have chosen a cheaper option with wheels that roll against a steel girder, but this would not be as stable", says Ståle Kildal who is very satisfied with the result.
Previously, Ståle had a portable device, which had to be carried out on the mountain and it was often cold and uncomfortable. Professional stargazing can, due to lighting conditions in the atmosphere, only be done in winter, let´s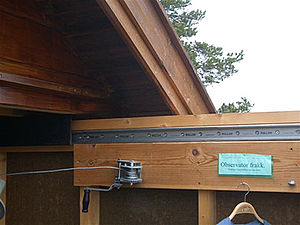 say between September and March. "It's a cold season, so with this observatory my hobby has become more comfortable" says Ståle Kildal.
"The installation of the rails went very well" he says, "and we didn´t encountered any certain problems". Ståle had originally imagined a motorized movement of the roof, but Compact Rail rails give so little resistance that it is easy to shove the roof in and out manually with wire and crank.
"We were a little worried about situations where the roof was ejected with heavy snow drifts since the weight can be up to about 10 tons, but this is absolutely excellent" says Ståle Kildal and shows pictures of a supernova he discovered in 2005.