GOLDEN PLYMOUTH IN FRAME OF ALUMINIUM PROFILES
People are accustomed to see artwork on walls, but the golden Plymouth by the Finnish artist Anssi Kasitonni is more unusual.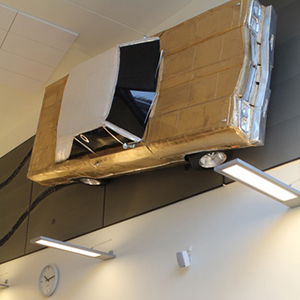 Kangasala municipality in Finland recently acquired this piece of art for exhibition on the city's newly renovated main library. The car is made of cardboard in real life size. To hang the artwork on the wall it was necessary with a more powerful solution than a normal picture hook. Consequently arose the idea of a hanging frame made of aluminium profiles.
In cooperation with Rollco, the frame was made in two parts to facilitate the installation. The design, made from 40×40 and 40×80 profiles, is both lightweight, strong and easy to handle. The aluminium frame keeps the golden Plymouth to the wall, but judging from the brake tracks there is plenty of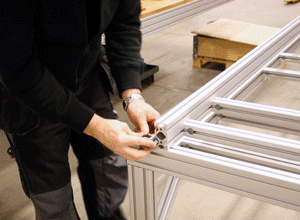 power in it!
Please contact us for further information of applications suitable for aluminium profiles.