VALENTIN RACING DRIVING SIMULATOR
Valentin Racing was founded by Peter Larsson. Five years ago, Peter woke up after a motocross accident, paralyzed from the chest and down. For many years, he had competed in both motocross and karting. Now he had even bigger challenges in the Renault Clio Cup in the Scandinavian Touring Car Championship 2014.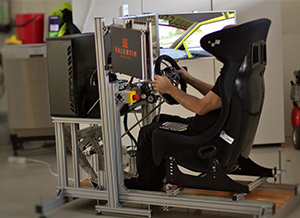 Peter has built a driving simulator to prepare for the race, where he can practice in providing gas and brake with his hands. The simulator can also be controlled with foot pedals, and the idea is that it could also be used for events and training weekends.
The simulator is built on a framework of Rollco aluminium profiles and the driving position can be adjusted with the profiles. The seat, steering wheel and handbrake grip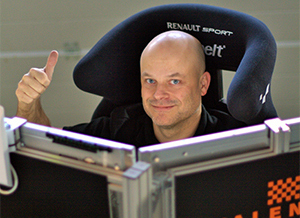 comes from a real Renault Clio. Because of the lack of g-forces and vibrations from the car, it is very important that the equipment give the right feel to the brake pedal and steering wheel.
The steering wheel is mounted directly on a servomotor controlled by the simulator, so you can clearly feel how the car reacts when under and over steering, bumps on the track, crash etc. Moreover, it is powerful enough to tear the steering wheel out of your hands!