ALUMINIUM PROFILE SCULPTURE
Dyveke Sanne, a well-known Norwegian artist has recently decorated a school in Hokksund. In co-operation with the local workshop, OTB service, she has created an artwork of aluminium profiles. The huge sculpture, depicting the old school building in Hokksund from 1902, now hangs in the school lobby as an illuminated installation.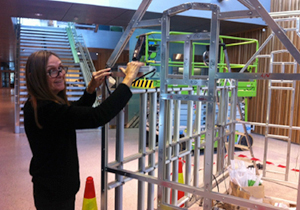 The sculpture is made of Rollco aluminium profiles fitted with interior light strips and mirrors and is suspended from the ceiling with eight steel wires. Approximately 1.500 screws have been used to assemble the sculpture. Rollco supplied aluminium profiles for this decoration project, which cost around 95.000 Euro.