C-RAILS MOVE WALLS
In the fall of 2008, Esa Set Up was to design a movable wall to the Finnish version of the TV show "Hole in the Wall".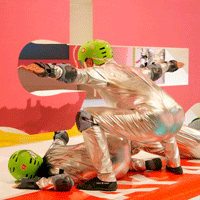 A zinc coated C-Rail from Rollco was chosen as rail guide for the wall. The goal was to find a solution that was easy to install and also quiet. During the shoot it is important to minimize all forms of background noise - also noise from the rail guides.
Rollco´s C-Rail was the perfect guide for the job. The rails were mounted directly on the floor with steel angles, and sliders with rollers were mounted on rails. The wall was now stable, and the sound of the rails did not interfere during filming.
The used C-Rails have since then been reused in the Finnish version of X-Factor, where they support the two walls, which open when participants enter the stage.