PNCE Electromechanical Cylinders
PNCE electromechanical cylinders combine a ball screw drive with a suitable bearing and guiding system. All contained in a robust aluminium housing with standardized interfaces making use of the wide range of mechanical fittings for ISO 15552 pneumatic cylinders.
PNCE is engineered to work and fit to industrial servo motors and will be adapted to the motor of your choice upon order. We offer you help to calculate the required motor performance for your application.
With an electromechanical cylinder, the precision, rigidity and controllability of servo mechanics can be combined with the speed and durability of pneumatic cylinders.
SPECIAL APPLICATIONS
Protection Class (IP65)
The IP65 version protects the interior of the cylinder from external media such as dust and water and fulfils the specifications to IEC 60 529. The design prevents occurrence of excess pressure or negative pressure inside the electric cylinder.
High Corrosion Resistance (IP65CR)
IP65CR version offers high corrosion resistance in harsh environments in addition to all the features of version IP65. All external parts are corrosion resistant and the connection elements are made of stainless steel.
Food Industry (FI)
The version FI includes all the features of the electric cylinder version IP65CR, but with upgraded materials suitable for applications in the food industry. The cylinder is greased with a lubricant class NSF H1. The design with smooth surfaces enables quick and effective cleaning.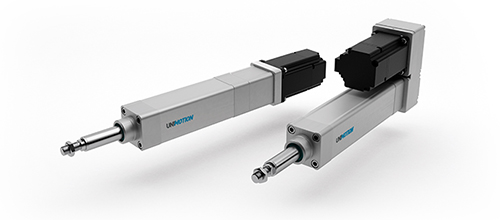 FEATURES

Low back-lash ball screw drive and angular contact ball bearings.
Rigid linear guiding of the stainless push-rod.
Robust anti-rotation device.
Smooth surfaces.
Geometrical based on ISO 15552 standard for pneumatic cylinders.
Protection class up to IP65, optional stainless and food grade.

BENEFITS

Quick and simple to design into applications.
Resistant to harsh environment and cleaning process.
Maximal force 5 to 10 times higher than with pneumatic cylinder of equivalent size.
Well suited for high dynamic servo-drive and 7/24 automation tasks.
Computable life time.

MORE INFORMATION

Note! These products are not for available for sale on all markets. Please contact us for more information.