Telescopic Rail Light
Rollco Telescopic Rails Light are intended for small and medium loads, from 30 to 300 kg/pair.
The telescopic rails are delivered as standard with extension of up to 140% and are available in lengths from 300 mm to 1500 mm. We also offer special versions with shorter or longer rails.
The rails are supplied in different materials. We recommend rolled steel for smaller loads. Cold drawn steel or aluminium are ideal for medium loads. For applications in special environments, we offer stainless steel, zinc-plated or chemically nickel-plated rails.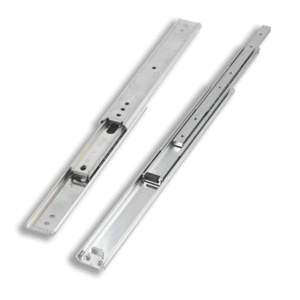 CHARACTERISTICS

Heavy load
High precision
Space saving design
Reliable
Stroke can be adapted according to special needs

APPLICATION AREAS

Train (doors, battery boxes etc.)
Building and machining industry
Automotive industry
Packaging machines
Special machinery

FURTHER INFORMATION