Linear Roller Guide
Linear Roller Guide works just like other linear rails, but uses rollers instead of balls in the four raceways. This gives a significantly higher contact surface between the rail and the slider.
The optimized design of the rails and the roller guides combined with an integrated lubrication system provides economical as well as technical advantages.
Roller Guides are commonly used in applications with high load capacities and a required high rigidity.
Please contact us for CAD files.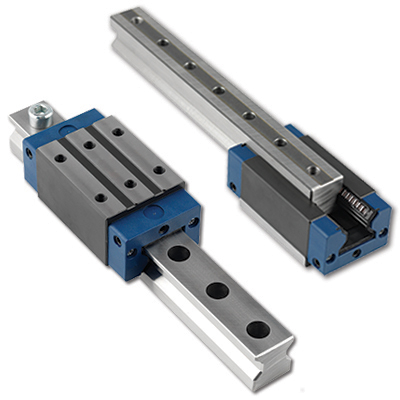 CHARACTERISTICS

Long lifetime, high load capacity and stiffness.
Large contact surface on the entire load zone.
High operational safety, the construction eliminates transitions between the plastic and steel parts.
The integrated lubrication system.
Integrated wipers protect the guides in dirty environments.

APPLICATION AREAS

CNC machines
Punching or pressing machines
High vibration applications

FURTHER INFORMATION