Linear Unit E-Smart
E-Smart is a complete linear unit designed to meet the load capacity, speed and acceleration conditions of a wide variety of applications. The unit consists of an aluminium profile and steel re-enforced driving belt. It offers a long service life and quiet operation.
Linear Unit E-Smart is available in four sizes, 30, 50, 80 and 100. The stroke is selectable per millimetre from zero up to 10 meter. It is very convenient to combine E-Smart into multi axis systems due to its use of standard System 8 T-slots in the profile body.
The unit comes ready for installation, which saves both design and assembly time. We cut and assemble everything in our own workshop, which ensures very short delivery times. We have various accessories in stock and can manufacture motor flanges and make other adjustments according to our customers´ needs.
Please contact us for CAD-files.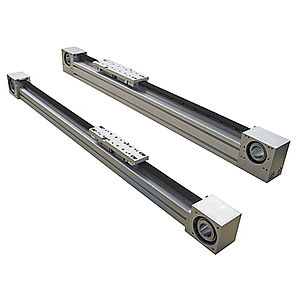 FURTHER INFORMATION

Note! These products are not for available for sale on all markets. Please contact us for more information.