ALUMINIUM PROFILE SYSTEMS ON YOUR TERMS
We offer a complete system of lightweight aluminium profiles. The system is easy to change or expand and is compatible with the most common profile systems. You will get technical support to assist you with all your questions, big or small. Just like you get quick feedback, rapid production, fast delivery times and delivery accuracy.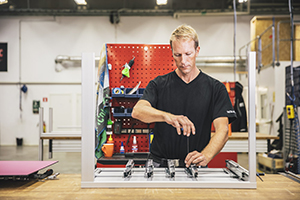 We build all kinds of aluminium profile structures, such as machine frames, workbenches, fixtures for advanced automation etc. Our designers are happy to help with design proposals.
You can select the products you need from a range with great flexibility – dimensions from 10x12 mm to 80x160 mm – with all imaginable accessories. We have a wide assortment of fasteners which makes it easy to adjust or change a construction. Angle and radius profiles are also available.