Compact Rail
Compact Rail is a product family of guide rails including roller sliders with radial bearings. These rollers roll in the internal, induction hardened, and ground raceways of a C-profile. Base material is made from cold-drawn roller bearing carbon steel.
Compact Rail consists of three product series: the fixed bearing rail (T), the compensating bearing rail (K) and the floating bearing rail (U). They can be combined to create self-aligning systems to compensate misalignment errors on two planes: axially up to 3.9 mm and radially up to 2°.
All products are available in zinc plated surface, whilst other treatments for higher corrosion resistance are as options. There are four different sizes of guide rails and many different versions and lengths of the roller sliders, differing on the size and load requirements.
AXIAL DEVIATIONS IN PARALLELISM
The problem occurs by insufficient precision in the axial parallelism of the mounting surfaces, which results in an excessive load on the slider and hence causes drastically reduced service life. The use of fixed bearing and compensating bearing rail (T+U-system) solves the unique problem of aligning two tracks.
DEVIATIONS IN PARALLELISM IN TWO PLANES
The K+U-system, like the T+U-system, can compensate for axial deviations in parallelism. Additionally, the K+U system has the option of twisting the slider in the rail, which will compensate for other deviations in parallelism, e.g. height offset.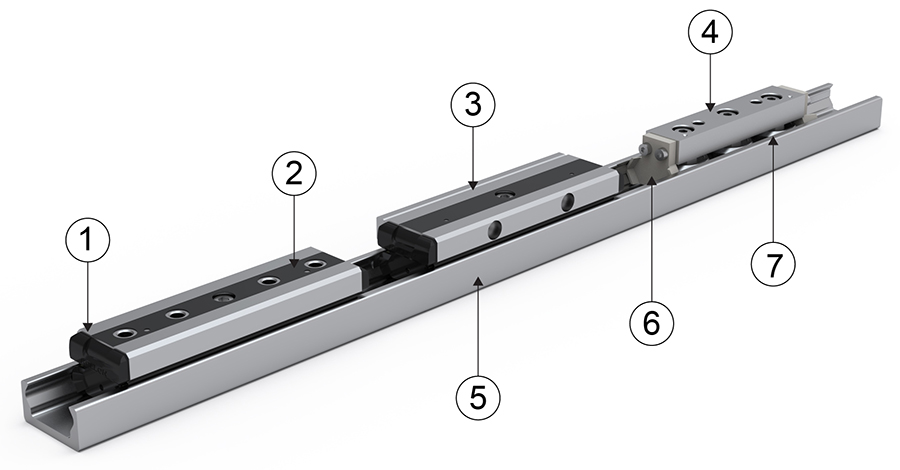 Wiper for NSW/NSA/NSD/NSDA
NSW/NSA-slider
NSD/NSDA-slider
CSW/CSWK-slider
Rail
Wiper for CS/CSK
Roller
CHARACTERISTICS

Compact size
Corrosion resistant surface for long service life
Not sensitive to dirt due to internal raceways and large rollers
Hardened and ground raceways
Self-aligning in two planes
High operation speeds
Wide temperature range
Easy adjustment of slider in the guide rail
Quieter than recirculating ball systems
Different anticorrosion treatments available for rails and slider bodies

APPLICATION AREAS

Cutting machines
Medical technology
Packaging machines
Photographic lighting equipment
Construction and machine technology (doors, protective covers)
Robots and manipulators
Automation
Handling
Special vehicles

FURTHER INFORMATION

Note! These products are for sale on selected markets. Please contact us for more information.