Easyslide
Compact and strong linear guide for applications with limited space. The system consists of a C-shaped linear profile rail with single, double or synchronised sliders with caged recirculating balls. The hardened internal raceways allow the system high loads and vibrations.
The rails are available in five sizes and lengths is made according to needs. It is possible to obtain different stroke variations with the same installation dimensions.
Easyslide is available in three different versions.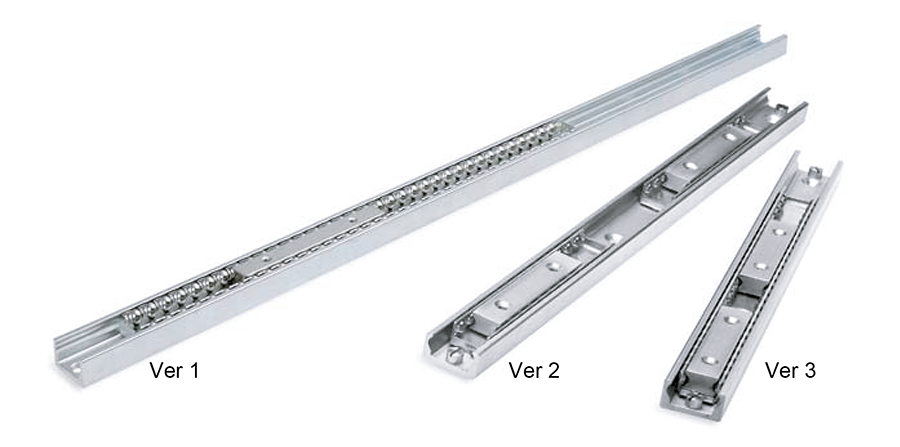 SSN LINEAR BEARING WITH SINGLE SLIDER - VERSION 1
This linear bearing consists of a guide rail and a slider that runs within the ball cage in the guide rail. High load capacities, compact cross-sections and simple and easy mounting characterize this series.
Variant with several sliders, which each runs in its own ball cage, independent of each other in the guide rail. Slider length and stroke for each slider can be different within one rail.
SN LINEAR BEARING WITH MULTIPLE SYNCHRONIZED SLIDERS - VERSION 3
Several sliders run in a common ball cage within the guide rails. The slider lengths can vary and then form a total unit, which implements the corresponding stroke.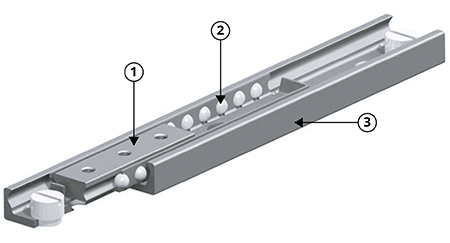 CHARACTERISTICS

Available sizes: 22, 28, 35, 43, 63
Induction hardened raceways
Rails and sliders made of cold-drawn bearing steel
Balls made of hardened bearing steel
Ball cage made of steel
Max. operating speed 0.8 m/s
Temperature range: -30 °C to +170 °C
Electrolytic zinc-plating as per ISO 2081; increased anticorrosive protection on request.

APPLICATION AREAS

Transportation industry (e.g. exterior and interior rail and bus doors, seat adjustments, interior)
Construction and machine technology (e.g. housings, protective covers)
Medical technology (e.g. X-ray equipment, medical tables)
Automotive technology
Logistics (e.g. handling units)
Packaging machines (e.g. beverage industry)
Special machines

FURTHER INFORMATION

Note! These products are not for available for sale on all markets. Please contact us for more information.